OPEN HOUSE 2022 : Lazuardi Global Compassionate School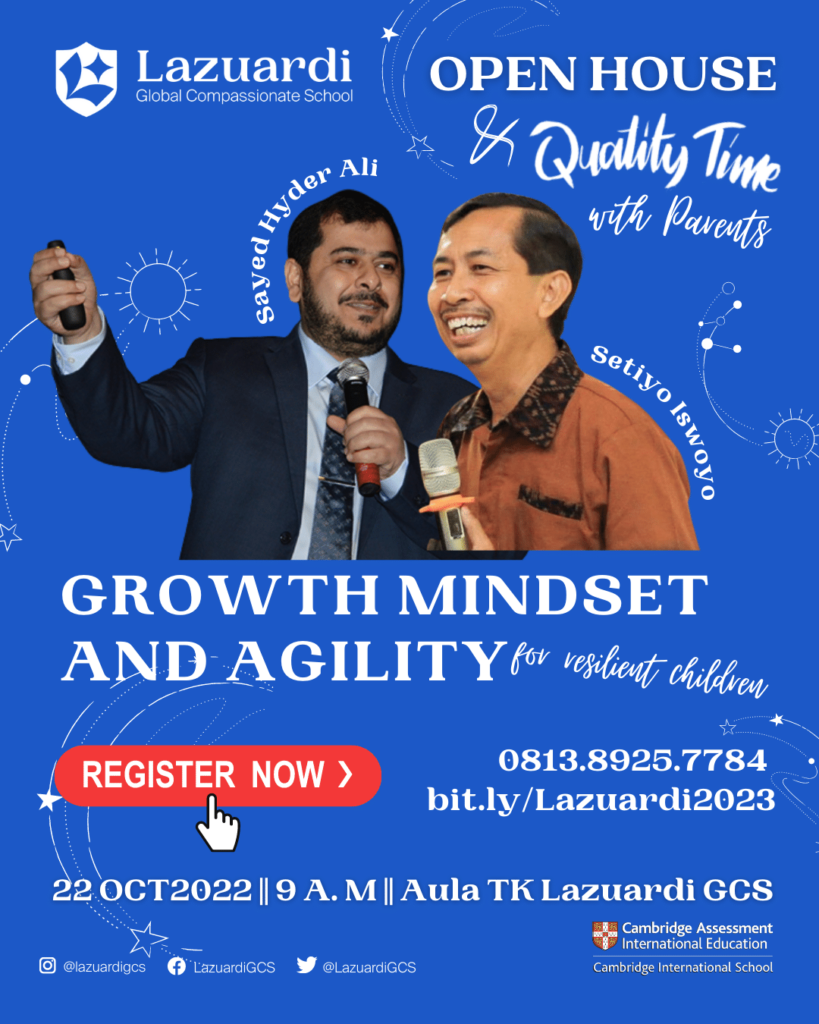 Assalamualaikum warahmatullahi wabarakatuh
Dear Parents,
Masa depan anak-anak kita adalah suatu masa yang penuh dengan tantangan dan kedinamisan. Pada masa tersebut, anak-anak akan dituntut untuk mampu beradaptasi dengan cepat dan tangkas sesuai dengan tuntutan lingkungannya.
Membangun pola pikir anak-anak, sudah selayaknya menjadi salah satu tujuan sekolah sebagai lembaga pendidikan.
Sejak berdirinya, Lazuardi selalu menjadikan pendidikan karakter sebagai salah satu fokus utamanya. Kami percaya, orang tua bersama sekolah dapat membangun karakter termasuk pola pikir anak, sambil mengembangkan berbagai kemampuan lainnya. Lalu apa sajakah pola yang harus ditanamkan pada anak-anak kita? Bagaimana caranya? Bagaimana peran orang tua dan sekolah dalam menanamkan hal ini?
Hadiri Quality Time with Parents & Open House Lazuardi 2022 bersama Bp.Iswoyo dan Bp. Sayed Hyder. Bp.Iswoyo merupakan anggota tim penulis panduan pembelajaran dan assesmen kurikulum merdeka kemendikbudristek, serta direktur SMA Pintar lazuradi dan ketua yayasan Amal khair Yasmin. Bp.Sayed Hyder adalah konsultan pendidikan yayasan Millennia Global Edukasi dan salah satu pakar Growth Mindset. Kita akan mendengarkan pemaparan kedua narasumber tentang Growth Mindset and Agility for Resilient Children.
Dipandu oleh Ibu Mutia Shahab, kepala Pra-TK/TK Lazuardi, kita juga akan berbincang dengan Kepala TK, SD dan SMP seputar pelaksanaan kegiatan belajar mengajar di Lazuardi dan bagaimana Lazuardi menanamkan pendidikan karakter melalui program Lazuardi 20
Daftarkan diri Anda untuk mendapatkan akses masuk ke acara ini. Insyaallah akan diselenggarakan pada:
Sabtu, 22 Oktober 2022
Pukul, 09.00-12.00
Di Aula TK Lazuardi GCS
Link Registrasi: bit.ly/Lazuardi2023
Sampai Jumpa
Wassalamualaikum warahmatullahi wabarakatuh