Quality Time with Parents : Dampingi Ananda Raih Potensi Tertinggi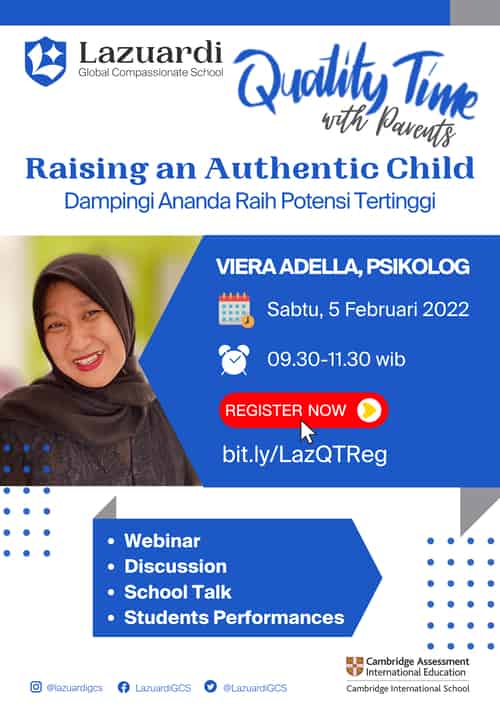 Semua orang tua pasti ingin anak-anaknya berkembang menjadi versi terbaik dari dirinya. Mengembangkan potensi anak, mencari tahu minat dan bakatnya adalah hal penting yang menjadi fokus utama orang tua. Lazuardi sebagai partner pendidikan ananda selalu berupaya untuk menyediakan berbagai channel untuk menyalurkan minat dan bakat ananda sehingga potensinya terus berkembang, baik dari sisi akademik maupun hal-hal lainnya.
Hadiri Quality Time with Parents bersama Ibu Viera Adella,M.Psi.,Psi., seorang psikolog yang telah berpengalaman di dunia pendidikan. Dimoderatori oleh Ibu Sari Kusuma Dewi, Kepala SD Lazuardi GCS. Kita akan berbincang seputar Raising an Authentic Child: Dampingi Ananda Raih Potensi Tertinggi Bagaimana orang tua dan sekolah dapat bersama-sama menggali potensi ananda, membangun karakternya, sehingga tumbuh menjadi anak yang sukses dan bahagia.
Kita juga akan menyaksikan penampilan para siswa Lazuardi yang pastinya akan sangat menghibur.
Acara ini insyaAllah akan diselenggarakan pada:
Sabtu, 5 Februari 2022
Pukul, 09.30-11.30
Pendaftaran: bit.ly/LazQTReg
Tautan pertemuan via Zoom akan dikirimkan secara terpisah.
Sampai Jumpa